#Actives
The school is focused on developing and strengthening pupils' behaviours for learning, such as resilience and perseverance, especially when tackling work that is difficult. Pupils are making good progress in developing the personal characteristics that will help to make them better learners. It is evident that they are becoming increasingly confident learners who enjoy school.
Research suggests that when children improve their learning behaviours, this skill set can improve both academic achievement and cognitive ability. If they are clear about how to behave, modelling such behaviours, then we have removed a barrier between them and the curriculum.
To address this we have an #Actives programme which promotes ways in which children can develop important lifelong skills. Children's successes are celebrated in a weekly celebration assembly and they receive rewards under these categories.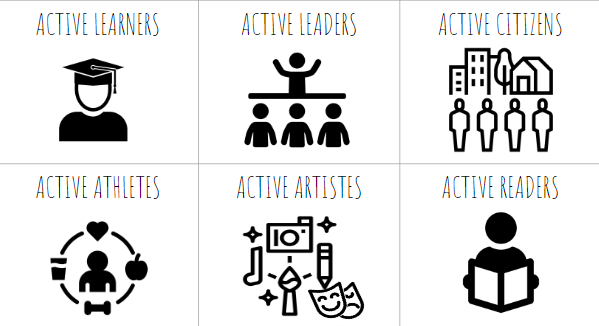 ACTIVE LEADERS

ACTIVE LEARNERS

ACTIVE CITIZENS

ACTIVE ATHLETES

ACTIVE ARTISTES

ACTIVE READERS

Communication skills

Listening skills

Passionate

Supportive

Role model

Ambitious

Understanding

Inspiring

Tries new things

Empathetic to others' needs

Confident

inclusive

Hard-working

Engaged

Communication skills

Demonstrates newly acquired knowledge

Passion for learning

Recalls prior learning

Resilient

Supportive

Makes Progress

Leads by example

Challenges themselves

Asks questions

Caring

Takes care of our school environment

Considerate

Volunteering

Kindness

Role models

Helpful

Collaborative

Supportive

Friend

Taking Responsibility for tasks

Links with the community

Achievement

Accomplishment

Effort

Trying something new

Making healthy choices

Participation

Lifestyle

Bravery

Risk Takers

Encouraging others

Positive attitude

Teamwork

Good sportsmanship

Working towards a goal

Commitment

Inspiring

Expressive

Brave -Challenge boundaries & stereotypes

Critical evaluation

Creative

Interpretation

Opinion

Explore

Colourful

Imaginative

Process not product

Reflective

Developing ideas

Recommends books to others

Reads a range of books

Reads at home

Helps others to read

Shares a love for reading

Reviews books

Challenges themselves

Expression

Interprets characters

Imagination through role play

Wide vocabulary

Makes links between books/characters

Makes links between stories & real life events